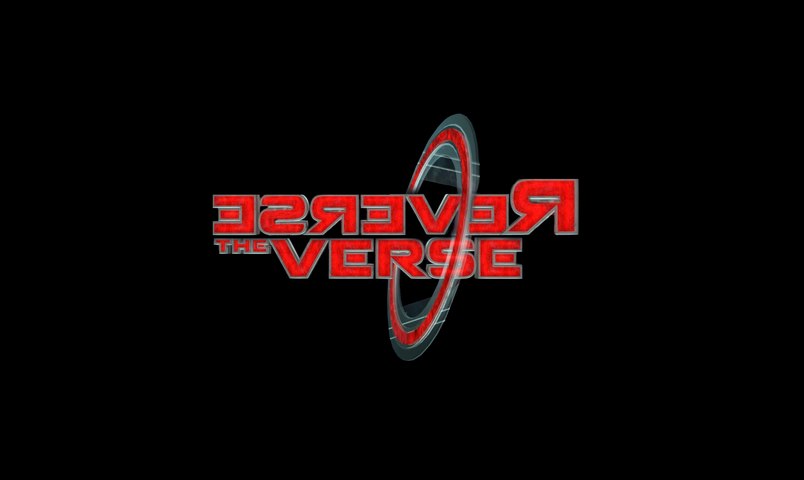 Hello Citizens! Another week, another Reverse the 'Verse! Check out the liveblog below! Transcript by Erris & CanadianSyrup Notes in italic are The Relay notes; Notes in bold are important information  Bob Ross may be...
Hello Citizens!
Another week, another Reverse the 'Verse! Check out the liveblog below!
Transcript by Erris & CanadianSyrup
Notes in italic are The Relay notes; Notes in bold are important information
 Bob Ross may be gone, but in his place we now have Disco Lando, Ben Lesnick (wearing a mask of some sort) Alexis and Justin.
Disco Lando's wearing the golden shirt of Mark Skelton.
Ben is wearing a Gorn mask. He's talking, but can't really hear him.
Alexis is 'Commander' Lesnick, and Justin's… a guy from breaking bad? They're in costume.
Ben's holding up card jokes. 'Naked as the day you were Gorn'
Ben 'Gornald Trump' had a busy week. Flight Control post came out, lots of work on that. Worked on the Cutlass Q&A, did some prep for the Crucible sale; what they'll show off, how they'll explain repair mechanics. Lots of work on 2.0, they're content complete, just bug fixing and polishing now.
'Billy Bob Gorndon'
Alex is still working on the queue for CS, Helping out with that. She's been talking to Turbulent about updating the subscription page, the landing page, making that a little better.
Getting stuff done for the subscriber flair program in 2016. Won't find out what the next flair is yet, but there'll be a new series of flairs in March next year.
'Gorn to be Wild'
There's a lot of other people, Mark, Justin, bunch of people whose names are going too fast, and there's too much rustling cause everyone's wearing yellow costumes.
And Cherie's here as well, dressed as Tifa from FF7.
'Hardcore Gorn'
QA folks this week have been doing lots of 2.0 testing. Making sure it's ready to go out. There are still severe issues, but they're working through and logging them, getting them fixed as quick as possible.
On Wednesday they stopped by Tyler's computer, showing Crusader, showing the terminal to order ships, and they clicked 'use' on the terminal, and the monitor popped off and fell to the floor. Stuff like that is why 2.0 isn't in our hands yet.
Cherie's working on the Star Map more. It's never done, she's adding moons to Pyro, you can watch the moons update in real time.
'Gorn on the Cob'
Vinny, dressed as Dr. Hugo Strange, is a new guy, he's a QA lead, came over from Activision.
Toast is here too.
'From whose Gorn no traveller returns'
Ben still has not taken off his Gorn mask.
Disco's been doing stuff for AtV and their trip. Next week is their last week in Santa Monica, then they'll come back to the new office. so they'll try to get a preview of it in next week's episode.
They're doing a Bar Citizen while in Austin, November 8th, 7pm, at Red's porch. Being organized by an Austin Bar Citizen group.
'Gorn o Plenty'
Ben woke Alexis up at 4am to show her the list of puns he wrote for this episode.
Basically this weeks' been a lot of prep for 2.0, some prep for the Anniversary livestream (November 19th)
11am to 2pm Pacific. Ben's trying to sign out what he's saying, and no-one can understand it.
The Anniversary livestream will have cool things like Chris Roberts.
'He who is not busy being Gorn is busy dying'
[What does the QA team do?] It's definitely not playing the game every day. As new features and new builds come on, doing a lot of performance testing, functionality testing, etc… for anything that comes online.
QA break things.
[Most entertaining bug this week?] The monitor was good, cause it was… yeah. Unexpected. Whenever you're trying to display something, a bug will happen. Whenever you're trying to show a dev the bug, it won't happen again. They haven't been able to repro the monitor bug.
[contact list doesn't display properly?] They're working on it? There are a lot of bugs. They'd have to go look at it and pull it up.
The bug with SLI causing issues, they've got a fix internally, but that'll hopefully come in the next patch.
[Emery's new lighting doesn't look that great in the hangar?] There's a known issue right now where Cryengine has a default time of day setting for the levels, and it's showing the wrong one for the hangars right now. Once that's fixed, the hangars will look even better. Should be fixed super soon.
[Bug-fixing patch between now and 2.0?] That's really up to production. Right now they're basically focusing on 2.0, really going to try to focus on getting that out. If that comes out, any fixes would just be rolled into it.
Possible, but unlikely.
[Favourite thing to do in 2.0?] Exploring and going to the various points of interest. It's a huge area that feels like you're flying around a whole system.
'If you watched the demo, the demo from Cit Con, when they come out of the airlock and you see the huge planet and the sunflares, it's the first time you really feel like this game is really coming together. Not in a simulator.'
'Gorn with the Wind'
Apparently the 0g ragdoll physics are epic.
[What bug has needed most testing so far?] There's one for FPS module with weapons that's come and gone a few times. The stock on the gun disappears, and when you aim down sight the back of the gun disappears. They've had to deal with that for a while, it's a problem with the builds. Only happening on release build, not profile build, but they're getting that fixed soon.
The broken hand in the buggy also took a long time to fix, but it's no longer an issue.
Nothing new about grabby hands, it's still an idea at this point.
[Land on a planet in 2.0?] If you try to land on a planet, first you get a message saying you're entering the gravitational field, and if you continue for a while, you'll eventually die.
Ben's going way too fast on the humorous pun sheets; not enough time to read them before they go.
'Gorn this way'
No news on a new holo-table.
'Nathaniel HawthGorn'
Ben's taken off the Gorn mask for a minute.
The concept phase of the crucible is locked down, they're working on what they need to show people when it goes up for sale. Ben and Sandi come up with a list of things: concept image, show it working with a capital ship, show it picking up a smaller ship, blueprints, what to include on the design post for repair, etc…
Should see the Crucible soon, it's 'Gorn' very well.
And Ben's put the Gorn mask back on.
The QA team have a mix of AMD and Nvidia GPU's, and AMD and Intel processors. Good variety of machines to test everything. Also a good selection of HOTAS and controls.
'Soft Core Gorn'
[Can friends visit each others hangars in 2.0?] No. That comes with persistence.
Area 18 is basically a multiplayer hangar, so it's not too far off, but they haven't been testing it yet. not in the first drop of 2.0 anyway.
'Death Gorned Over'
'ShopGorn'
No new commercials coming for a while. They were a test-bed for the cinematic team, but they're working on SQ42 right now.
'Gornram Reavers'
[Deadzone settings on joysticks?] It's on everyone's radar, hopefully fixed for 2.0, but it's on the list to get fixed asap.
'Ozzy OssGorn'
[890 jump for sale again?] Probably.
[Update on Morrow tour?] They've made good progress. There were some issues that they wanted to fix. It still won't be full release, but we'll see it soon.
'Vile StinkGorn'
'NatalieImbrulgia-Gorn.mp3'
Matt Sherman just arrived.
'Sarah, do not Gorn me dead'
The Archimedes is close. Probably see that soon-ish.
'Gorning Curve'
They need to finalize the list of loaners for 2.0 after the show. If you don't have a Retaliator or a Constellation, but you have a larger ship, there will be a loaner.
[Auto tracking gimbals?] They've been discussing it. There are ideas being thrown around. It won't be free, there will be a direct cost for using them. Could happen, but won't have the same potency.
'Jesus was a CapriGorn'
'FogGorn LegGorn'
[More controller options in the future?] Yes. First they have to get what all the controls will be sorted, for scanning, mining, salvage, etc… Once they have that action map built out, they can start working on customization and parity between controllers.
Ben is back, I think he's out of puns now.
[New mini-games in the works?] None at the moment. They usually pair those with sales that have new concepts, but they're pretty good for the rest of the year at least.
They had a Subscriber RtV this week, this was with artists. If you haven't seen it, check it out.
Chris Roberts was still in the UK on Wednesday.
[Update on concierge 'stuff'?] Yes. Alexis believes next week, possibly, they'll start selling the special Concierge card. They'll have those available for sale for a few weeks so everyone gets a chance to order one. Also talking about Concierge flair for 2016.
Un-melt requests are still on hold. They'll get to those once they're through the rest of the queue.
[Does Halloween exist in SC?] Of course. Call it space-o-ween.
Congrats to Will Lewis, who got married last weekend! Best wishes to him!
[New goliath mouse pads in the works?] Nothing in the next few months. They might do an alien one as the next design, for 2016.
There will be some new pre-order merchandise coming in November for the November livestream.
In addition to the livestream in November, there'll be one in December as well. December 16th, holiday livestream.
Disco apparently looks like Santa, and dressed up as Santa last year.
The Connie when 2.0 drops will be the Andromeda. It'll be the only version available for some time.
[Freelancer concept?] When it's approved, we'll see it. Can't get something shown before it's approved, cause if you show it before the direction is solid, you might be misleading people.
[ETA on next profession update?] Repair will come with the Crucible, so that'll likely be the next one.
Repair is coming from Todd Pappy, who works out of Frankfurt (design Director)
As much as they want to get the design deep dives out, they have to make sure they're saying the right information first; to make sure that they're going to be able to implement the stuff in game. They can't only tell you want the want to do anymore, they have to tell us what they CAN do.
They're working on something for the Cutlass. John Crewe is putting together a Q&A.
[Able to mine in 2.0?] Not in the first drop. The features for 2.0 at launch are what you saw at Cit Con, with a few surprises, but it's the bed they can expand on, and we'll be able to test them in there eventually.
They're talking about Alien Resurrection.
Ben's putting the Gorn mask back on.
[Rear turret for Connie?] No update on that from last week. They've been hashing some things out, cause they're working on the Merlin and stuff as the connie gets ready, highly unlikely. You might be able to swap out some other things with it, but you won't be able to swap the turrets for a docking collar to have an additional Merlins, it wont be a one to one ratio for what you can swap to across all turret mounts.
Probably will be UEE patches coming in December.
They'll be investigating more patches in 2016 as well.
[Can we buy / earn ships in 2.0?] No, not yet.
[Which studio will work on the Banu Merchantman?] Ben thinks Santa Monica, but he's not 100% sure. UK is the Vanduul and possibly the Xi'An.
They're still exploring flipping the bottom turret on the COnnie, but it won't make it into 2.0
Congrats to Kirk Tomay for his promotion to… technical designer? He's working on making the Connie awesome.
[Will 2.0 have currency?] yes-no (coy looks between Ben and Lando)
Grabby Hands is still an idea right now.
[Prowler?] Nothing yet. They're waiting for some resources to clear up. Once the Reliant variants are done, Prowler will start.
[Currency for 2.0] – they're not ready to talk about it yet. They're leaning towards using REC for now, using it to prototype economy and missions and such, but they have to get 2.0 out and stable first.
[Steam controller?] They got one in Austin, but they will be testing with it.
[Avenger?] That's a ship name, not a question. Ben – Avenger, I just met her!
Lots of noise now. They're getting a bunch of people with costumes in to take a picture of some kind.
lalala picture taking
Sandi is off at the new office.
[Does LA get beer like Germany?] Yes. They have mini kegs in a fridge. Fans bring them lots of beer. They have a monthly birthday celebration.
No talk about drones yet.
Bob Ross is still streaming, has 66,000 streamers.
There is no persistence in 2.0. If you lose your ship, you don't actually lose your ship. There's no reputation system either. This is not the kickoff of the PU, this is a great big playpen to break over and over again.
Justin and Ben are talking about tattoos now.
They haven't started working on the other Connie variants yet. They need to get the Andromeda right first, then they can move onto the others.
Getting the base connie built with systems in place and modules, that takes a long time. Going from there to the other connie variants is much faster once everything's locked down.
They won't say too much about how 2.0 is going to work, they want us to discover that ourselves.
A lot of 2.0 is simplified from how it'll be finished. The repair mechanic to individually repair things isn't in yet, but they'll talk through that as they get closer. Quest system is very simplified quests, not indicative of what'll be in the PU.
[Referral program?] Going pretty well. Lots of people are getting into it. 1 millionth Citizen was a member of the Referral program. Some more tiers will be announced eventually.
They go up to 10 right now, probably go up to 25, 42, and 100.
You will not be able to create a private instance of 2.0, at least not in the first drop. But you should be able to see which instance your friends are in and join them.
Not going to tell when 2.0 comes. It'll be when it's ready. And it's not cause they know. They just don't know yet. It could be 10 minutes from now, could be 3 weeks from now. It's got to be in a position where it's a value for the community to test it. Can't rush.
Pretty much content complete, just doing bug fixing and internal testing before it goes to the PTU. Once they know it's going to happen, they'll let us know.
[Battlefield Upgrade Kits for the Connies?] No. Different ships, different processes.
[Dragonfly?] It's in the plans, but it's not a sure thing. It lost the vote, the Reliant won, so they'll look at it after they finish the ships they already promised.
They're now talking about the games they all play. Ben's GotY so far is Kings Quest. Fallout, Tomb raider, Battlefront and stuff are coming… calm before the storm.
And that's it! That's this week's edition of RtV!
There'll be one more RtV before they move to the new office, and then they'll be in the new one!
Note: This is the transcript before Reverse the 'Verse went live. Below is Bob Ross who was a renowned painter that taught people how to paint with his Series "The Joy of Painting" Disco lando put this on an hour before normal Reverse the 'Verse
CIG have started the stream early to… host Bob Ross painting happy clouds and things.
Disco Lando just appeared for a second, then disappeared. Back to Bob Ross!
Bob is currently painting a tree, doing the leaves, looks like a very nice early fall tree, greens, yellows, browns. He's switching over to a large brush now, painting in brown and umber, dropping in what looks to be a bush.
Putting a few little trunks into the bush, now going back to yellow, to add in some colour to the bush. Looks quite pretty.
Ok, I'll stop liveblogging Bob Ross now, and wait for the RtV stream to start.
Ok, who am I kidding, this is too engrossing not to liveblog. Bob's moving onto a new painting; he's got a canvass that's got a coat of blue and green, and now he's just painting in some white very loosely.
Bob's telling us to have fun, let things happen, and isn't that just a good lesson for life itself, not just painting.
'These are your woods, so whatever you want in there' I want a Hornet in there. Can we have a Hornet in the woods?
The forest is slowly filling up, trees taking the spaces where the ligt isn't, filtering out the blackness from the white beyond.
Also Disco's occasionally throwing up some of the random SC pre-stream images, then going immediately back to Bob Ross.
Bob is currently waxing philosophical about what noise a carrot makes, while he adds little tiny branches to trees.
The painting gives the impression right now of woods at dusk, a tiny bit of moonlight drifting in between the branches.
The painting gives the impression right now of woods at dusk, a tiny bit of moonlight drifting in between the branches.
And then there was a Disco Lando staring at the screen, and he's gone again. Back to Bob! Part of me wonders if we'll just watch Bob all day, skip RtV entirely. Part of me wouldn't object.
Bob's starting to fill in the mid-ground now. The trees that are there, they sit in the back, lonely and distant. The yellow meadow he's filling in now gives a lustre of life to the painting, bring it closer, more personal.
Bob said 'let there be light', and he mixed some red, blue, and white paint together, starting touching the trees to brighten them, and lo, there was light.
A few touches of light, and the painting has transformed from a midnight scene to an early morning view. Bob's adding in more small details, more limbs for the trees.
Bob's blending in the yellow and ochre along the grass, giving them flavour and colour without brightening them too much.
Bob's going to put a nice house in the background now; a house he'd like to live in, so he could sit outside the house, talking to the little white rabbit that lives deep in the forest.
'chickens need a house too' Bob's house is turning out small, more like a shed. Mixing white and brown, and some burnt umber, mixing them together but keeping them marbley, to cut across the house, barely touching it, to give the house flavour; character.
'You want the paint to break, make it look old' Similar to how Star Citizen will be doing decay over time on her ships? Who knows; who knows.
There's now a cute little cabin in the woods, surrounded by the tall trees, the yellow grass, standing out in the early morning light.
The cabin is ready, but you can't get to a cabin without a path. Bob's adding a nice little wandering path now, letting it wander, letting it play, not caring where it goes. It leads to the cabin, where it comes from doesn't matter. There is only the painting, the world outside of it is non-existent; irrelevant.
'Just let it go' Bob says that a lot. Disco just appears every once in a while, staring at the screen, smiling, as I'm sure we're all smiling right now. Watching Bob Ross paint is hypnotic, beautiful. Brings meaning to an otherwise dull day.
Bushes are growing now, appearing on the canvas like parts of a dream, materializing out of nothing; out of the imagination of a Master.
'From all of us here, happy painting'
Back to some normal SC images – Abacus Man and Lumberjack Dog.
And now we're back to Bob Ross. We're doing a vertical canvas today, rather than a horizontal.
Today we're starting with some Prussian blue on a white canvas, dulled down a tiny bit with some Vandyke brown.
For those wondering, this is currently what's airing on CIGcommunity's twitch.
We're building clouds now, building them into a pale-blue sky, layering some clouds into the canvas with small, tiny circles.
Fluffing the clouds now, lifting them up, and blending them into the sky. Nice little rows of clouds.
'You can put as many happy clouds in your sky as you want, let them go. Clouds are free'
Bob Ross is truly a man of great wisdom.
Keep in mind, hopefully in a few minutes RtV itself will start.
We're tapping in a basic shape of a tree now, with some very faint mix of blue and brown paints. Very basic shape, almost like a wash, some browned evergreens coming to live, appearing just underneath the clouds in the sky.
The tappings of Bob's brushes as he creates these trees, pulling them down out of the sky, is hypnotic, mesmerizing. Soothing.
He's pulling the reflections of the trees down now, enough to make reflections in what will surely become water below them.
SOON tm has appeared
And the soothing voice of Bob Ross is gone. Prepare for RtV.
The RSI chat is rioting, people wanted to see the lake be completed, and I concur. The lake was just beginning its formative journey, now we'll never know how it turns out, we'll never see the picturesque form of its still waters created.