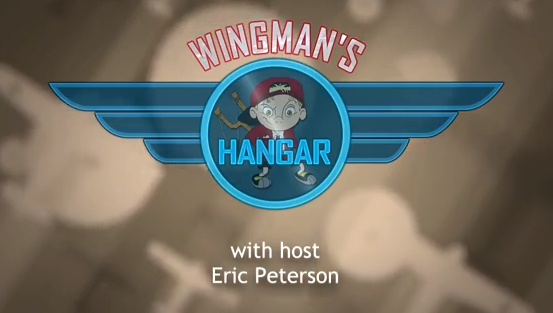 Hey Citizens! Here are my notes for the very first episode of Wingman's Hangar! Wingman's Hangar – Episode 1 link History of Eric and Michael The name for Eric's show is up in the air...
Hey Citizens! Here are my notes for the very first episode of Wingman's Hangar!
Wingman's Hangar – Episode 1 link
History of Eric and Michael
The name for Eric's show is up in the air, for now it's "Wingman's Nuts", because it's "damn funny"
Michael Morlan is joining the CIG team
Michael's official titles are Media Producer and Project Manager
Show is a work-in-progress and iterative project, using community feedback as its main method of evolution
Office is just setting up, just got computers, 8 people working there currently, another 12 coming in soon
Michael and Wingmen originally met in high school, and they met again while Michael was working on Ultima at Origin, and Eric was working on Wing Commander with Chris Roberts
Michael originally wrote and directed for Crusader at Ultima, then worked on Ultima 9 until it was shelved in favor of Ultima Online
Eric originally left Origin to help found Digital Anvil with Chris Roberts, where he worked on Starlancer and Freelancer and Conquest: Frontier Wars
When Microsoft bought Digital Anvil, Eric left to continue work on Conquest, until he started working on a Lord of the Rings game – so he brought Michael onto the project
300i
Lots of interest in 300i
Will be releasing a sneak peak of the 300i
Chatroll
Question: What will Michael's roll be at CIG?

He will make sure everyone on his team is able to stay on task and meet major milestones
Eric makes sure the way ahead is clear, while Michael looks out for the team
Game is currently not beta or alpha, but "pre-alpha"
Skype Calls
Question: Will dogtags be for subscribers only?

Pleasure is partially responsible for the dogtags
CIG shows interest in reaching out and working with Pleasure

Question: Will there be a pre-alpha garage where you can view your ships?

Uhhhh, what?? Thanks a lot, Chris!
Because of the pre-alpha and community-oriented nature of the game, it's important to get things out to the community so they can walk around their hangar, check out their ships, and see their hardpoints
Additional Staff
Pete was one of the original people hired
Pete comes from Lightbox Interactive
Pete takes care of link issues
Tom Sawyer is Network Lead
Tom is responsible for making sure CryEngine can do what Star Citizen will require of it
Skype Calls Take #2
Question: Is it possible to move pledges from one account to another?

Possibly! That'll be up to Pete!
Though customer services is severely backlogged at the moment

Question: What is written on the Lamp?

"Happy Lampidays + Thank you"

Question: Any ETA on the Star Citizen Cards?

That's a Sandi question!
Couldn't get them out by Christmas due to various technical issues
If you're unemployed, you should have a Black Card!
"You don't need to eat… just dedicate to Star Citizen!"

Question: If a content creator contributes to the game, is there any profit sharing?

That's still up in the air at the moment
A mod program will be put in place after Launch
Need to figure out the legalities of mod creation and profits coming from them
As an aside
In the future, anyone who misses the original episode of "Wingman's Nuts" will be able to watch the edited version at their leisure
Chatroll turned into Skype
Question: Is there anything going on the economy yet?

Basics have been determined, but no, nothing has even begun to be built yet
Economists will probably be brought on for the development of economic systems
Recently having a discussion on balancing emergent behavior with player fun
Working on creating a sense of chaos in the world that's natural and real
There will be an homage to Descent involving asteroids, as that game was phenomenal
"Freespace… that's fightin' words, son! We're Starlancer and Wing Commander here…. Freespace is a good game…"

Question: Wanna look at my drawing?

"If you think about game-making, we're literally adults making kids toys… so this is what it's about for us. We're the same as you! We're just making the game with you, and anything like [fan contributions] is inspirational to us and makes us feel appreciated, and [makes it] worth the effort and long hours to do these things."
Michael: Thank you to everyone who wrote so kindly on the blog regarding my intro on RSI
Chatroll once more
Question: How is death handled in the game?

"We're talking about that right now – I would appreciate it if you would put a post up in the forums about that very thing."
There's a couple of different ways of doing it… a limited number of resurrections, after which you permanently die and your ship is passed down to your heirs
Or perhaps you're resurrected with weaker body parts
Lots of different things we're talking about concerning this
A poll about this is probably gonna be released… while Chris' will is final, Community feedback carries a lot of influence

Question: How will the bounty-placing and retrieving work?

That's a long way out. First we'll figure out how the economy will work, and then we'll start fleshing out other aspects
We do know a little bit though – once you create the bounty, bounty hunters will be able to accept the mission and start chasing after their targets
It depends on whether it's PVP or PVE bounties… because some PVP players will have bounties on them
BUT EVERYTHING IS SUBJECT TO CHANGE!
We're showing the thing!
Eric signs off with: This is the first iteration of Wingman's Nuts! Thank you all! You're great! Have a very happy holidays! WINGMAN'S NUTS!