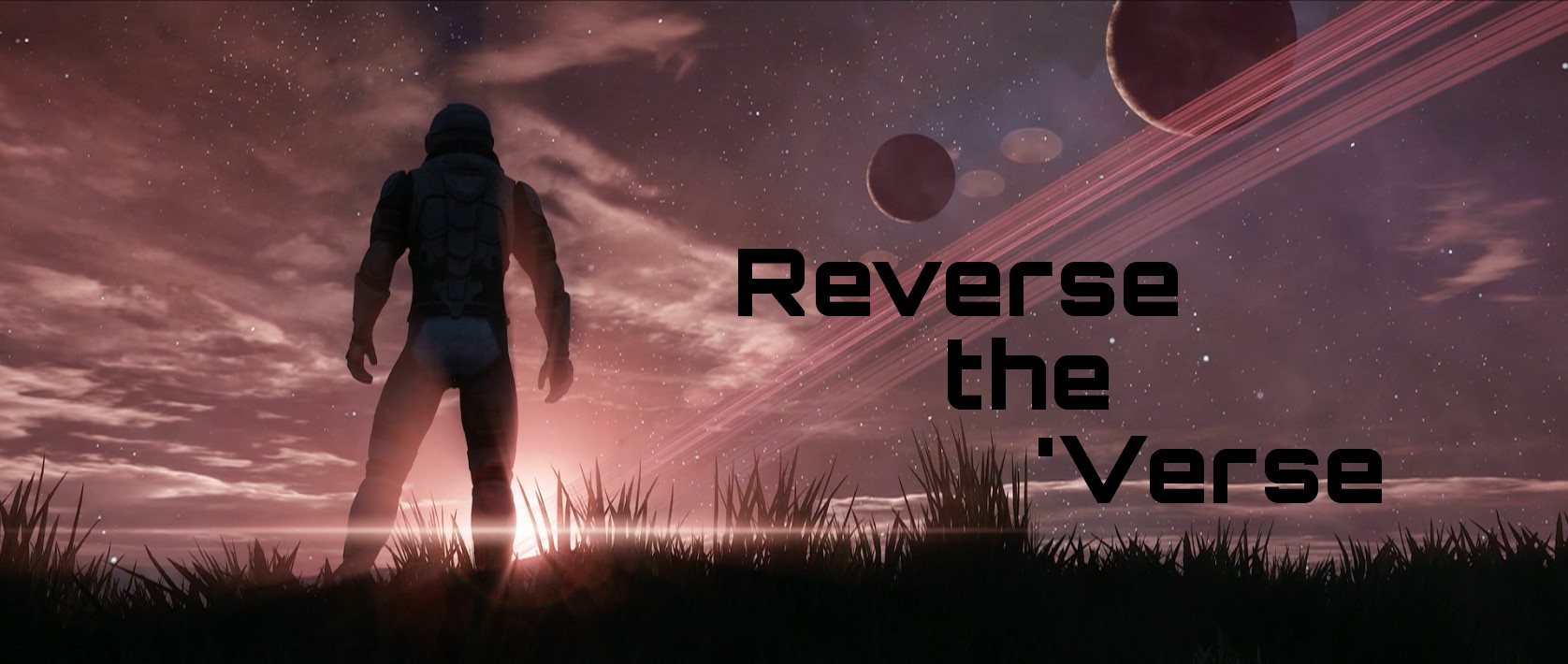 Hey Citizens, here are my notes for the 29th episode of Reverse the 'Verse. Reverse the 'Verse Episode 29 link – The Banu Merchantman still exists. – PAX South information coming out today. Two part...
Hey Citizens, here are my notes for the 29th episode of Reverse the 'Verse.
Reverse the 'Verse Episode 29 link
– The Banu Merchantman still exists.
– PAX South information coming out today. Two part thing in the afternoon. Three panels about the PU. Your ideas session. Meet and greet. End of the night presentation with Chris. Tickets for just presentation and tickets for presentation and the PU townhall (PU panels).
– Hull C – Three hour meeting yesterday about the ship. New ideas about the ship and "super fired up" about it. Concepted by Jim Martin who did the Freelancer.
– George Hull concepting the RSI Orion.
– Which of the two above ships comes first to concept sale is entirely dependent on which concept artist finishes first.
– Gurmukh is concepting the Bulldog – the entire Bulldog development process will be filmed at Santa Monica.
– Ben and James going to Austin for a week.
– Tons of segments being shot including interviews and pieces with Tony.
– RtV from Austin likely with Ben and James.
– Flyable Gladius is in the works "very very soon".
– Scythe flyable "hopefully sooner than later".
– They are working on Vanduul Swarm Co-op. They didn't expect an issue with it in V1.0, took them by surprise. It's a priority to fix.
– FPS Module is on track and things are looking good.
– Monthly Report for December still coming today.
– January hangar flair next Friday.
– V1.0.1 is coming along and on track. Internal release date but won't share.
– "Forget everything you know about the weapons class system. It's changing."
– 5000 tickets for CS. It will take some time to get through the backlog.
– V1.1 will include AC credits.
– Chris Roberts is in the UK right now. He will be heading to Austin
– Jen is a new member of the community team who will start in Austin for a few months and then transfer to Santa Monica.
– James promoted to Community Manager.
– Will promoted to Assistant Community Manager.
– Expect to hear more about mining soonish as those mechanics need to be nailed down for the design of the RSI Orion.
– Drake Herald is completed concept but has not been assigned to a technical artist, so is in limbo.
– Retaliator close to hangar-ready.
– Avenger variants coming after Retaliator.
– Sandi and Ben next week for AtV.
– Week after will be Ben and "an Austin Favourite" – read Rob Irving.
– FPS Module is "around when people expect it."
– CIG Germany is "coming together". Hiring a lot of former CryTek employees.
– CIG Santa Monica moving to new office in the middle of the yearish.
– They *MAY* be able to get the Super Hornet flyable using the two crew before AC V2.0. It's in discussions.
– Not a ton of gore in FPS, but there is blood. "Not selling the game on gore."
– Current motion capture is the final run up to the massive shoot for SQ42 Episode 1.
– Moving on from just having single character models (a male model and female model) to having "not just one man but all sorts of men!"
– The actual map of the PU is currently being revamped, and the web Star Map will be waiting until this is complete. They want to make sure that when they release it, it is a true representation of the PU.
– Oculus support being worked on but there are issues.
– Names are finalized for Avenger variants.
– Colour options for ship HUDs will be a thing.
– New weapons class system is in the process of being developed.
– Base Cutlass should feel like a cheap ship but hugely upgradable.
– Holiday livestream was a bit hectic behind the scenes. James immediately grabbed a beer and laid down on the couch in the office afterwards.
– New Santa Monica office will have a space for livestreams.
– Aegis Bulldog ship likely not to change name.
– Xi'An scout is "coming". They want a completely alien HUD for it. "We need to clone Zane."
– RSI Orion similar in size and scope to the Reclaimer.
– 890 JUMP is in a holding pattern until it is needed in the game (which I believe probably isn't until PU).
– There may be missions in the PU exclusive to those who completed Squadron 42 (The Vanduul have invaded Vega… help!)
– TNGS2 will come later once things are more established. A lot of the people who would be involved need to focus on the game right now.
– Design post about insurance upcoming.
– January hangar flair is "pretty cool" and "something different".
– CR is at a summit in the UK currently.
– Jen will serve as community content producer and will also help Sandi with some marketing stuff.
– When asked about the [Boomslang](https://forums.robertsspaceindustries.com/discussion/115162/team-shard-collective-ax114-boomslang-mk4-new-renders/p1) Ben said: 'We still have them in the back of our mind. Don't have them on the schedule right now. More ships than artists.'
– Remodeled Avenger and Cutlass roughly coming sometime in Q1.
– Gladiator might be flyable soon (vague on this).
– mobiGlas is coming along great and is getting very close to where they would like to show it off to us.
– More on the snub fighters "soon".
– CitizenCon will be in Manchester, UK – location not 100% nailed down but it will be 'within 5 to 10 minutes of the airport and Foundry 42'.
– Winners of the Holiday Livestream contest will be announced on next week's AtV.
– There will be ways to trade items in the game but probably not in the traditional auction house way.
– (Q: Will we be able to find answers to what happened in Hades?) Ben: "The truth is out there guys."