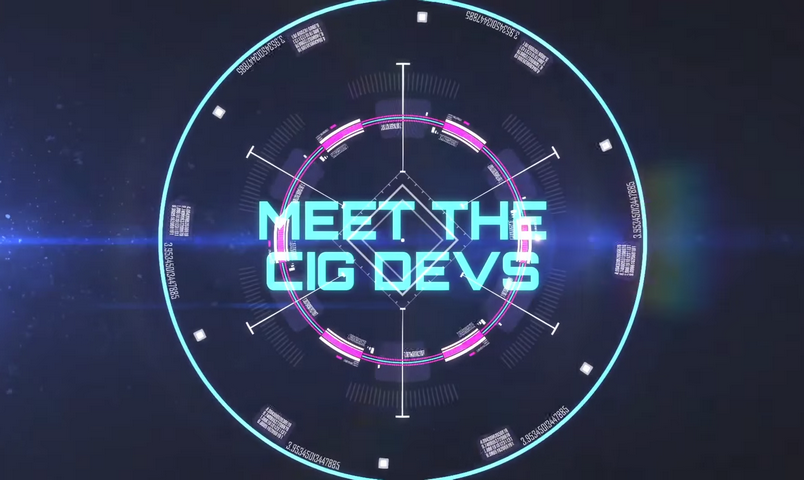 Hello 'Verse! Check out this week's Meet the Devs, with Animation director Steve Bender!   Transcript – James Pugh with Steve Bender JP – Hey guys, thanks for joining me. I'm here with Steve Bender...
Hello 'Verse!
Check out this week's Meet the Devs, with Animation director Steve Bender!
Transcript –
James Pugh with Steve Bender
JP – Hey guys, thanks for joining me. I'm here with Steve Bender, Steve, how you doing?
SB – I"m doing alright.
JP  – Good man, thanks for coming on.  It's good to have you back from the UK.  We'll talk a little about what you do around here.  You're the animation director?
SB – Yes
JP – How'd you get started on that path?  It seems like a really kind of specialized
SB – Yeah, it was really kind of weird, in that I was always really interested in art and also in acting in high-school, and I was originally going to go to school for graphic design and I was going to these different portfolio days and things like that, and we were at the tyler school of art in Philadelphia, another of these portfolio days, and my mom was like, come on, just one last school, there's some place in Sarasota Florida, and I was thinking, Florida?  I don't know…mom, I'm tired, I just want a cheese steak and
JP – How old were you?
SB – I don't know, 18 I guess?
JP – Okay, I was hoping you'd be like, 27, this was last week.
SB – No, but, we took a trip down there and found out that they had not only a graphics design department, but also a computer animation department.  I didn't know what the hell that was, but it sounded like a good idea.  So I looked into it a bit more, and I remember I was playing Street Fighter II I think, on the SNES,
JP – Good call
SB – With my friend Brian, and we were sitting there and I said, you know what, if I get accepted for computer animation at ringling, i'm going to Florida.  And sure enough, it came through, and I went from parkman high school in Orfield (?) Pennsylvania to Ringling (?) in Florida.
*Ed's note – sorry, I'm Canadian, I don't know these places or how to spell them.
JP – So how'd you get involved with Star Citizen?
SB – Well, I used to work at Crytek, I was the animation director at Crytek, on the entire Crysis series.  I also worked on Ryse, and what became WarFace, and I think it was somewhere around 2012, we got rumours of Chris Roberts was interested in doing something with cryengine, and there were some people that were involved part-time, and it was the point in my life that I decided, it was time for me to move on.  I was talking with people and one of the guys I was talking to was like, what about CIG, what about Star Citizen, you like space games, right?  And I was like, well, are you guys hiring?  and he said, let me find out.
JP – And that man, Chris Roberts (/s)
SB – So I was in Germany at the time, and Chris had come out to London for something, and they flew me up, and I met them for dinner, and that's how that all started.
JP – Nice.  So you recently moved over here to the LA studio.  Where were you at before?
SB – I was living in Frankfurt Germany.  10 years.
JP – Wow.  Quite a…quite a difference.
SB – Yeah, well, I've been, even though I've been officially a resident of the US since the beginning of NOvember, I've been probably in Europe more than here, so I haven't while completely gotten used to living in LA yet.  I don't even own a car yet.  There's good things about LA, especially in the case of the sunshine and the beach, but Germany was also really great.
JP – Glad to have you on board.  I just see the work you do, and everything that's going into it, and it's the smaller things.  The animation for the things you don't really think about.  Is that a lot of Chris' doing, and he's saying we need to do this, or are you just thinking about what makes this world feel a little bit more realistic?
SB – Well, I think it's a bit of both.  when I was talking to Chris about animation and things that I find interesting in animation, it's about the honesty of things and about the realism of stuff.  For instance, one thing that always bugged me about FPS, is character weight shifts.  They don't, it's the aspect where a character can go this direction really fast, and all of a sudden kick back in this direction.  And sports games typically do this really well, but FPS don't.  And that was something that I wanted to promote into SC's FPS, and it was also something that Chris was really keen on going for.  So that's been a really positive collaboration there, cause we're both on the same wavelength as to what we're looking for within SC, within the greater Universe.
JP – Alright, well, we're going to let you go.  Before you go, we have some rapid-fire questions.  Are you ready?
SB – Wooo, I'm ready for rapid-fire questions.
JP – Favourite movie?
SB – Star Wars.
JP – Which one?
SB – I think the first one, although, possibly Empire Strikes back.  I do like the Fifth Element, it's a little quirky *SB and JP high-five*, 12 monkeys, Guardians of the Galaxy I thought was absolutely brilliant.
JP – Favourite video game?
SB – think overall, when you talk about games that I really remember, the Mass Effect series.
JP – Number 2 right?
SB – Not only number 2.  But if you haven't played it, there's a DLC for ME2.  Shadow Broker.  There's not many times in gaming where I've dropped a controller before.  Silent Hill was one.  Playing it in college, and being in Germany something like 6 years later, and walking down the street and it was all fuzzy, and for whatever reason the song that was playing in my headphones started making this staticy sound and I lost my shi—-
JP – Alright, last one.  Favourite ship in SC?
SB – Phoenix.  All the way.
JP – Why the Phoenix?
SB – It has a hot tub.  The second you get in that thing, you think, oh, it's shiny, it's pretty, there's seats and things, I can fly it, you go in the back, and you go HOLY, there's a hot-tub, and a screen, you just kick back and put your feet up there, there's a whole bar on the side, and a double-bed, it's just party central in that thing.  Absolutely.  that's the way to do it.  Cruise in style, blow stuff up, and at the end of the day, you chill in the hot tub.  For sure.
JP – I like how you think.  Alright, once again I'm James Pugh, this is Steve Bender, and That's a Dev, and you just met him.
*Not Lando even though he wishes his voice were like that* So lame.
JP – Whatever, it's better than the other ones.