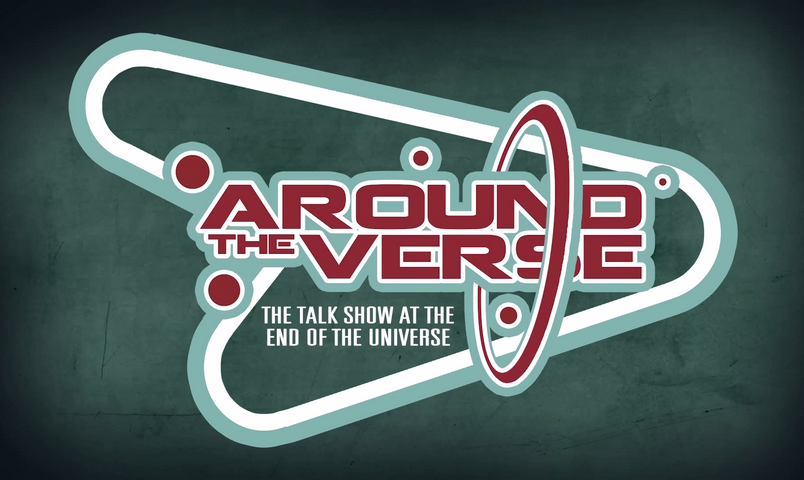 Citizens!  Welcome to The Relay's coverage of Season 2, Episode 3 of Around the 'Verse! Around the 'Verse Images [Coming Later Today]   Transcript by Sunjammer, CanadianSyrup and Myself 00:39  Intro SG: Hey everybody welcome to...
Citizens!  Welcome to The Relay's coverage of Season 2, Episode 3 of Around the 'Verse!
Around the 'Verse
Images [Coming Later Today]
Transcript by Sunjammer, CanadianSyrup and Myself
00:39  Intro
SG: Hey everybody welcome to a very special episode of Around the Verse. I'm Sandi Gardiner and this week we are coming to you from Foundry 42 in Manchester England and I'm joined by a very special guest.
ER: Hi, I'm Ben Lesnick! No, actually I'm Erin Roberts and I'm glad to be here.
SG: And this week we talk to Foundry 42's Senior Project Manager, Tom Johnson. But first let's talk current events. Erin what did you do this weekend?
ER: We had a party this weekend and it was actually kinda fun!
SG: We did! Check it out …
[Short CitizenCon 2015 montage]
SG: Cool. It was fun.
ER: Yeah. I had a lot of fun meeting all the guys from the community. And what was really great was  for the team, because they managed to meet all of the community guys, they could talk about a bunch of stuff. And for our guys, and there's a lot of us, there's like 130 of us now, to be there and to mix with the guys playing the game and to get that feedback is always brilliant for the team.
SG: Yes. So we hope that all the guests that got some special attention and had some great conversations with our staff, because they were all there. And everybody seemed to have a really good time, I really enjoyed myself, it was great.
ER: It was fantastic. I did what I usually do in the demos: I quite enjoy doing the work to get the demos going but when the demos start I tend to go hide. So I went it kicked off I kinda come round the back and actually joined the audience and it's a lot of fun just to see the reactions of everybody. So it was great!
SG: Yeah, from the event organisation side I always get a little stressed right before because you just want everything to go well and everybody to have a good time. But everything went really smoothly so about half way through the show I was like "ah, great I can relax a little bit"!
ER: It was fantastic. And the passion of the guys in the community and supporting us is always great to see.
SG: Yeah, it's awesome. There was a lot of cosplay …
ER: And for the morale of the teams here, when they see the reaction, it just makes a huge difference. It really drives people on. So it's fantastic.
SG: And gifts! We said no gifts but I got this [Star Citizen UK t-shirt], this is cool! You too …
ER: I got one as well, I'm going to try it on later. Might have to see if it will fit, in case I have to lose some weight to get into it. They gave me the right size, I just think I've put some weight on lately.
SG: Okay. Thanks to everybody for coming; thanks to everybody who was online, we had a record number of people on Twitch. And we look forward to next years event!
ER: And the entire presentation is now online so you guys can check it out and hopefully enjoy it as much as we did.
SG: And you can also check out the ARK Starmap which is available now.
ER: Also the referral program is launched. So check it out and introduce Star Citizen to some friends.
SG: And if they are on the fence we are running a free fly promo which goes for two weeks and I'm pretty sure that all ships that we have flyable right now. So that's pretty cool.
ER: Yeah, anyone who's interested can download the Star Citizen Alpha and play Arena Commander for free through October 24th. Details are available below.
SG: And finally for those who were concerned, the fuselage from the stream was a Concord jet and not a full scale Aegis Retaliator! We don't make real spaceships … yet!
ER: Yet.
SGT: The weekly Star Marine update and the September Monthly report also went live over the weekend. Check out both for an in-depth look at the work that we're doing.
ER: Now it's back to work for our teams around the world. You're going to be hearing more about Alpha 1.3 which is the next build coming out. And of course you know the Crusader system, which we showed, which is going to be the large world. And we would like to thank everyone who's made the Endeavor launch a huge success.
SG: Science.
ER: Science.
SG: Yep, science. And if you're interested in picking up a ship that's more brawn than brains a section of limited military ships is now available and with the new CCU system you can upgrade any ship in your inventory without losing insurance or early backer benefits.
ER: We also introduced a new ship over the weekend, the Aegis Sabre. It's actually designed and will be built here in Manchester. So the guys are looking forward to doing that. And it's available as a concept ship now.
SG: It is. The Aegis Potato!
ER: That's right.
SG: AKA Sabre. But wait there's more! We also have an array of new physical merchendise in the store including Squadron 42 mugs and shirts and set of cloth patches; for the Subscribers there is also a special Subscribers patch which is very cool.
ER: That's a lot of updates. Anyway lets check in with our studios from around the verse …
6:11 News from Around the 'Verse
Santa Monica – Eric Kieron Davis and Darian Vorlick
– Zane Bien is working hard on the UI for all of the large world ships.  Needs to tighten up and button down some things.  
– Cherie Heiberg did work on the incredible Star Map.
– Constellation is being made flight ready – Kirk Tomei and Dan Tracey working on it.  It's due to be flyable.
Austin – Jake Ross
– Buggies in ArcCorp!  Now with explosion effects and death!
– If you die you respawn in the medical bay in ArcCorp.
– Animators working on female locomotion sets.  Most of the male stuff done.
– Trying to get the female character in the game.
– ArcCorp optimization in progress to bring up maximum player count.
– New in-construction area in ArcCorp.
– Social Module V1 will be released soon!
Foundry 42 UK – Michael Dalston and Chris Eckersley
– Had an excellent time at CitizenCon!
– QA working on 1.3.0 – specifically the ArcCorp expansions and Size 4 gun.
– Another team working on Crusader.  Coming along great.
Foundry 42 Germany – Brian Chambers and Todd Papy
– Working on EVA in large world AKA baby PU and how that ties into SQ42.
– Looking at prefab for levels and spawning proper characters into levels.
– Working on Ship and FPS weapon pipelines to pump out more content, including unifying manufacturer identity (Behring is recognizably a Behring regardless of it being an FPS or Ship weapon).
– Expect to see more weapons!
Sandi and Erin
– Big thank you to our studios around the world.
15:00 ATV Interview with Thomas Hennessy Featuring Tom Johnson
TH: Thanks guys, I'm here at foundry 42 in the UK talking to senior project manager Tom Johnson, Tom?
TJ: Hey!
TH: Tom, How are you doing?
TJ: Very good thanks!
TH: So senior project manager, That's a pretty important job, can you tell us a little bit about what that means to the way person.
TJ: For me it's supporting the team. We got a lot of guys here and making sure they've got everything they need. The project can be very demanding at times so we got to stay on our feet and make sure we can adapt to what's needed and I guess my role is just making sure everything is going okay.
TH: Kind of like for the CitizenCon, where you're the guy that's running around kind of making sure that we had all the videos we need for the presentation, you were making things happen.
TJ: Yeah, exactly, so, the rule in production can change quick, dramatically. So for this instance CitizenCon was coming up and had of more like event planning to do and actually sort of go from game development into what we needed to get ready for the actual show and so there's absolutely some logistics involved and we were working right up the wire and making sure we're getting out actual game content ready and as well as sort of stuff for the marketing side of things with the videos and was working with yourself on the day. it was a lot of fun and very rewarding and it was really great to sort of see all that come to fruition at the actual event.
TH: Isn't that just amazing, like that feeling and being there and the energy and everything, it's pretty cool. So specifically when you're not event planning, you're wearing all those other hats, what's your main area of focus as far as the big picture of star citizen
TJ: So big picture wise, Squadron 42 is kind of my area of focus but with the way we develop with Star Citizen there's a lot of the core systems that are going to be built for Star Citizen and Squadron 42. So the team is very much cohesive unit to build all these system together and make the content and make a project that can really sort of grow and expand out into the persistent universe so we don't just make a single player campaign game that doesn't have any systems that can be built out towards the persistent universe and actually make the you know  the bigger end goal of the large world and all the different systems around the universe.
So, you know we've always had that in mind and it takes a little longer to make these things modular but that way we can split the game up and have a different areas of focus like squadron for myself and fps and space combat and so on. That way we can get them all to come together and actually have a solid foundation to make the game on.
TH: So can that be frustrating sometimes or challenging where you're focused on a single player campaign and you know you need this, this, and this to make this happen but the big picture calls for that to be more than you need it to be but you kind of have to wait or you're depending on other people to do their thing so you guys can come in and do yours?
TJ: Yeah it is a very challenging project but we've got a great team and we've always been very creative in the way we solve our problems. Often being the case of trying really plan a few steps ahead and we've really managed to do that to a point where we're really confident in what we're building out and it's just a matter of getting it done. We know the tech that we need, we know the content we need and just need the manpower which we've kind of got up to speed now which we didn't have when we started a couple years ago, it's certainly rounded up to a point now where we can feel confident about really kicking some ass and getting the game done
TH: So Squadron 42 for the most part, Chris talks about it, it's the single player campaign he talks a little bit about what it is but for the most part has been kinda shrouded in a lot of secrecy up till this point, and you've been working on it and your guys have been working on it but not really talking about anything or no one knows what's going on. So what does it feel like now CitizenCon has passed to finally reveal some of what's going into it and seeing that kind of reaction that people have had to it
TJ: I mean the reaction to it was especially great and seeing it first hand at CitizenCon and being among the fans there and hearing them gasp and just like see the cast come through and reaction to the morrow tour and you know we've got a lot more to deliver of what we've showed on the morrow tour. It's great to actually finally have the kind of content there to start showing people what it is we're going to produce because it's going to be right up there so, yeah it's a relief for me to actually talk about it.
TH: It's nice for all of us because we've all been kind of hanging on to this information for months and months and months now and you just want to talk about it. Well tom! I appreciate you taking the time to talk to me. It's been great being out here for the week, had a great time. You guys have been amazing, I hope you come back and do some more pieces! Once again Tom Johnson, Senior project manager, Back to you guys!
Sandi and Erin
– Sandi trying to be converted by Ben to use puns in the segment.
– Sandy Asks: How far back do you and Chris go in the games industry?
– Chris and Erin worked together since they were 12 years old in manchester and the first game he worked on was Wizidor an old BBC micro game.
– Sandi Asks: What does a global head of production do?
– He took the role on in June and visits different offices and looks at how he can improve the efficiency within the organization.
– What he did prior was build up the offices in manpower and has been working with the UK office for the most part in getting them build up to where the need to be.
– The last few months he has been working to improve the efficiency of the organization by figuring out the strengths of each office and consolidating the people to where the core of a team such as UI for example are all working in the same office which increases efficiency by a lot and creates a uniform environment and placing the right people in the right places.
– Zane, UI programmer is moving to UK next month and others are moving to the UK as well and having people from the UK moving to LA and Austin.
– Sandi asks: What is the studio is focused on in manchester?
– Squadron 42 is the huge focus and they also do a lot of support for various things but it's mainly built for Squadron 42. They have a large ship team in manchester.
– Sandi Asks: What kind of ships are you working on right now?
– Avenger variants which are coming out soon!
– They're working on the Starfarer which is a big ship and erin says you're in for a treat and it's amazing in terms of scale and the uses for it. When the Starfarer is released that's when the fuel aspect of the game will really kick in.
– Vanguard is in full production and is looking great so far.
– The Sabre is in production is in as well
– Freelancer is being worked on
– All the retaliator modules are finished and are just waiting on some code so they can be swapped out easily
– Idris of course which was scene over CitizenCon
– X'ian Scout is being worked on in LA
– More people are being brought on to help build the ships.
– Manufacturers are being split by studio to make it more consistent. Aegis or MISC ship comes out the UK and more lines will be handled by UK when more staff are brought on.
27:57 MVP
SG: And we can't forget about MVP. Drum roll please.
ER: Here we go …
SG: Alright the envelope, not quite as good as Alexis' but that's okay because Tom did it this time. We make do. And the award goes to reddit user dogsofknowledge who recreate the Vangard concept art in the Unreal 4 engine in a very impressive video. Check it out.
28:25 Art Sneak Peek
ER: And of course it wouldn't be proper to leave you without an art sneak peek.
[Hangar Lighting Improvements Before/After]
SG: Sounds very proper when you say it.
30:20 Outro
SG: Be sure to tune in to Reverse the Verse, tomorrow at 11am Pacific on Twitch, where the guys back in Santa Monica will discuss the art sneak peek and all events of the last week.
SG to ER: I never get to say that you know. The first time I've said that.
ER: Also thanks to all subscribers who make this happen and allow us to do this show and this actually … fun! I enjoyed this but you won't see me again for a long time.
SG: Thanks Erin, we will see you guys next week on Around the Verse.
ER: Bye!
SG: Bye!