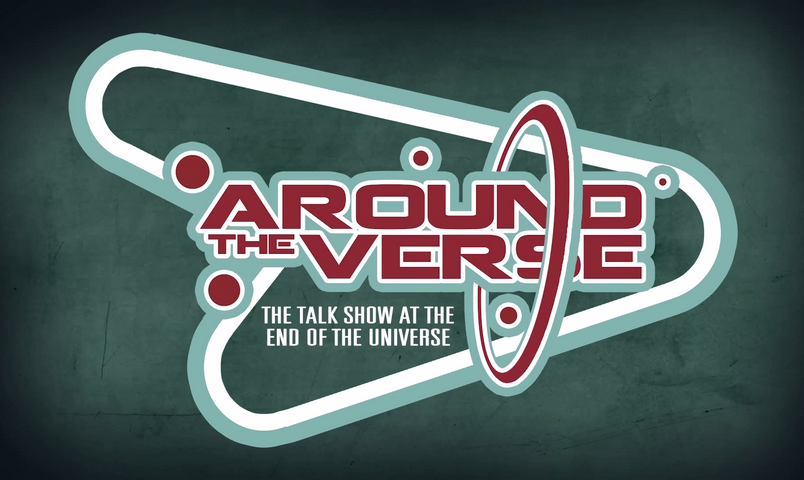 This weeks Around the 'Verse has arrived. Check out the transcript of the show. Transcript by CanadianSyrup, Shiver Bathory, Sunjammer, Stormy Winters, Desmarius TLDR(Too Long;Didn't Read) Intro Ben and Alexis will be returning Friday 2....
This weeks Around the 'Verse has arrived. Check out the transcript of the show.
Transcript by CanadianSyrup, Shiver Bathory, Sunjammer, Stormy Winters, Desmarius
TLDR(Too Long;Didn't Read)
Intro
Ben and Alexis will be returning Friday
2.4 is on PTU with first wave testers (Avacados). 2.4. Features flyable Starfarer, hangar ready Reliant, Port Olisar upgrades and shopping.
Monthly Report is out and features some images from 2.4
Shubin biography winners will be chosen next week and five lucky winners will receive an RSI Orion.

Those who entered will receive a five dollar coupon which will be emailed tomorrow.
News From Around The Verse
Los Angeles
Emre Switzer out in L.A.
He's been going over technical environments with Sean Tracey for Nyx and moving it towards finalising
Caterpillar still being actively worked on, manned modules being worked on.
Making sure lighting pipeline is uniform before moving on
Matt Intrieri has been leading the work on the validator tool
Engineering continuing work on Item System 2.0
Emre is redoing lighting on a lot of ships, with the Connie coming up in the future
Austin
First wave Avocado testers feedback is being reacted too and run past Chris where needed.
Pete Mackay placed as Lead Designer for Analytics
Animation team is also providing support for the mo-cap shoot in the U.K.
Dumper's Depot not in 2.4 release but hopefully soon after
New shops opening in 2.4 are: Cubbie Blast and Casaba Outlet
These will be in Port Olisar as well as ArcCorp
Behaviour working on environment art for kiosk purchasing before Austin works on the implementation phase
Foundry 42 UK
Mici is joined by John Reilly he is Senior Character Artist
Currently working on the Vanduul but did work on other characters like Graves too
Been working as an Artist for about 15 years
Foundry 42 Frankfurt
No update specifically this week just wanted to say thank you
ATV Behind The Scenes: Voice Attack & HCS Voice Packs
Voice attack turns your voice commands into macros and scripts
Voice attack can be downloaded from voiceattack.com, 21 day trial for one profile with twenty commands
HCS voice packs are responses from actors that give you a catalogue of educational material and sounds responses
Three voice packs coming out: Orion voiced by William Shatner, Vega voiced by Brent Spiner and Midnight performed by Tom Baker
Profiles have been completely tested and are ready to be released (will be by the time ATV airs)
Get VoiceAttack from www.voiceattack.com and the voice packs from www.hcsvoicepacks.com
Paul is working on getting a triple voice profile out within a month
Wonderful World Of Star Citizen: The Relay
Erris apologizes for being Canadian ;)
The The Relay was started to track Star Citizen content and prevent it's loss within the Star Citizen subreddit.
The Relay is a home for transcripts, fan fiction, videos, tutorials and basically anything Star Citizen.
The Star Citizen subreddit is a very open and fun place for everyone to talk about Star Citizen.
The Relay Rollcall:

Nehkara – fellow Canadian that started The Relay by transcribing Star Citizen videos from the subreddit.
CanadianSyrup – runs the transcript team
StomyWinters – runs fiction
Shiver_Bathory – is our european correspondent and Director of European Relations
JakeAcappella – video and general gaming director
PapaDolvak – used to run subreddit.
Lesser Minions – 30-35 members strong.
Firespikez – hangs out

The Relay livestreams Saturdays at 2:30 PM Eastern the Star Citizen news of the week and answer questions.
The Relay transcript team are second in knowledge only to devs and serve as a source of information when CIG employees aren't available.
The Relay transcribes 10 for the Chairman, Bugsmashers, Around the Verse, Reverse the Verse and any of the special Reverse the Verses.
Nehkara produces a concept sale analysis.
JakeAcappella and PapaDolvak have started streaming on their own.
The Relay also has started covering general gaming news and reviews.
Ben is a big fan of The Relay.
Thanks for supporting us and Star Citizen.
Erris has no idea who Robert Loggia is.
MVP w/Tyler Witkin
TheMikeBerg for his Star Citizen cell shaded ships.
ATV Fast Forward: Piping System
Full Transcript
Intro
Jared Huckaby (JH): This week. We chat with the makers of Voice attack and HCS Voice Packs about talking to your computer
The Wonderful World Of Star Citizen highlights the work of fan organisation Relay
And we look ahead at continuing development of the pipe system in the ATV Fast Forward
All this and more on this week's Around the Verse
Sandi Gardiner (SG): That's an expensive way to take down an enemy, but  you know hey it works.
Forrest Stephan (FS): Yeah I hope the kill is worth hitchhiking all the way back to Port Olisar
SG: Yeah I wonder what their insurance company is going to say
FS: Oh I'm sure their premiums are going up
SG: There you go. So hey everybody, welcome to this week's episode of Around the 'Verse, a weekly look at Star Citizen's development, I'm Sandi Gardiner.
FS: And I'm Forrest Stephan
SG: And he is not Ben Lesnick, but Ben and Alexis are back this Friday and we really look forward to having them back so safe travels coming back to us.
FS: And until then, I will do my very best to fill those shows.
SG: Oh he had to put a pun in there. So Forrest, big news for this week is that Star Citizen's Alpha 2.4. went to our PTU.
FS: Yeah there's a ton of cool new features. Some front facing, but a lot happening under the hood.
SG: And I just saw some external testing numbers and their pretty impression. I don't know if you're on that email thread, but very exciting stuff so there's the flyable Starfarer, there's the Reliant which is hangar ready and there's upgrades to Port Olisar.
FS: And shopping, tons of shopping. We finally did it, we finally got the shopping implemented. We've been working on it for months, there's about 36 items I think, that you can customize your player with. Everything from shoes to pants to hats, so shirts, jackets. I'm sure the players are just having a blast with and there's  I think there's seven new space suits that we put in with the helmets.
SG: Alright and did you do some of  that?

FS: I did my best to help everybody that was involved, it was a big team effort and everything from character riggers to character artists to tons of tech that had to built to allow us to do the item port stuff. So yeah it took a lot of different people to create… it seems like such a simple thing, put on a hat and take off a hat, but it's just so much more to that, there's so much under the hood that needs to happen so it's super exciting for us.
SG: Your title keeps changing so I'm not sure what you do [Laughs]. He does a lot here for us, does a lot here.
FS: I have seven drop titles.
SG: And he's been with us along time. With the most recent PTU we added a smaller more focused wave of testers call the Evocati.
FS: Yeah I heard they're doing an awesome job. The issue council reports are blowing up and so thank you everybody that's involved, I hear it's going awesome.
SG: Yeah that was actually what I was mentioning before [laughs]. But I didn't know we called them the Evocati
FS: I didn't know that until either, evocati. I tell you what I won't forget it now.
SG: In other news, the April Monthly Report went out this Friday so if you would like to have a very detailed read of all of the reports from all of our studios you should check it out.
FS: Yeah I heard there's a ton of new relayed 2.4 images in there.
SG: Oh, there you go, get to it folks and maybe even a nice shot of an upcoming Starfarer Gemini for those who want to look closely.
FS: Which I haven't seen.
SG: Well, there you go, maybe you should read it too.
Last week the Prospector sale ended and as part of that sale, citizens were invited to write their own biographies for their miner characters.
FS: Yeah there's like 35,000 entries I think.
SG: 35,000 really?
FS: 35,000 yeah.
SG: I thought it was, okay. 35,000 entries and there you go. Next week we'll pick our five favourites so everybody is up for 24 hours until then looking at all the entrants and we will pick five favourites who will win an RSI Orion mining platform.
FS: Oh I'm so excited about winning that.
SG: Yeah [Laughs]
FS: Why not? Oops..
SG: You're not eligible
FS: Sorry, cut, start over.
SG: And as a special thanks to everyone that entered we are going to send out another five dollar coupon to those who submitted a biography for their miner. These coupon codes will be going out by email tomorrow to keep your eye out.
FS: Which I will win, hopefully.
SG: [Laughs] He wanting to win everything.
With that let's check in with our studios from around the world and see what's happening in this week's News From Around The Verse.
News From Around The Verse
Los Angeles
Eric Kerion Davis (EKD) : Hey everybody and welcome back to Los Angeles. I'm Eric Kieron Davis and I have a special visitor with me…
Emre Switzer (ES): Emre Switzer.
EKD: From the Austin office! He's out here working on several things and we got a couple updates for you this week. But i'm going to let Emre, what are you working on?
ES: This week i've been finalising Nyx, going over the technical environments with Sean. Sean Tracey of course. And also nailing down the lighting pipeline going forward we need to make sure that all the lighting is uniform across all our locals. I know we're doing stuff in similar ways, so that we don't have a tonne of things out of sync.  So just nailing down the technical aspects of lighting here in L.A.
EKD: It's really cool 'cause Emre's got a kind of technical knowledge in lighting so it's not just the artistic side of lighting it's like: "How do you achieve that within the CryEngine?". It's really interesting. Him and Sean are working really closely together it's been great having him out here. And then on the other side, we're still working on the Caterpillar pretty actively on the Art Team. manned modules being worked on.
The big thing on the Engineering side is Item System 2.0. We continue to chew on that master system. It's going to make a lot of changes, a lot of upgrades and we're really excited about it. And then we've been working on the asset validator tool, Matt Intrieri been working on that. So a lot of work's been done this week, and we've made a lot of great progress. So I think that's all the updates we have for you, unless you have something up your sleeve you want to give updates on?  
ES: Not sure. Working on quite a few ships right now. Redoing the lighting, Constellation probably soon.
EKD: A lot's going on here in L.A. We're glad to have Emre out here
ES: It's great to be here   
EKD: Alright cool. Alright guys until the next time. See you later.
Austin
Jake Ross (JR): Hey guys Jake Ross here, Producer of the Austin studio, and I want to give you an update of what's going on here in Austin. First off we have 2.4.0 on PTU, YAY! We've gotten a lot of great feedback from our first wave of PTU testers and we are operating on that feedback and iteration now. So we're taking your considerations into heart and running those by Chris, when and where needed and tasking those up. So hopefully we can make the best experience possible before we push this thing out to live. So thanks again for your feedback guys and keep it coming.
We are also looking ahead towards analytics. I've mentioned it a little bit in the past, we want to be able to track a lot of different things going on in the game. We've now officially established Pete Mackay here in Austin as the Lead Designer on that. So he's going to be heading up Analytics and he's learning a lot about that. Kind of setting the course for tracking all that stuff. So we're happy to have Pete in charge of that he's going to do a great job. So that's it for the Design side.
On the Animation side we have a love mo-cap shoot going on right now in the U.K. Back in Imaginarium doing some pick ups from Squadron 42, and our Animators here in Austin are doing some support on the metric side, when things arise on set with Chris, and Hannis and those guys run into issues with metrics and things like that they'll blast out and say "Hey we're having an issue with this thing". And our guys here in Austin will react and they'll adjust and they'll document things they needed documented. It's a cool little thing where at the end of the day, we'll kind of have this cycle of "Hey we ran into these issues". And then we come in in the morning and we tackle those issues, and then they have those fixed for the next day. So it's nice to be able to have that cyclical schedule, even in as something as massive as complex as a mo-cap shoot, it's nice to have that.
Looking a bit farther ahead. We're looking at Dumper's Depot. We have a couple shops opening up in 2.4. Specifically Cubbie Blast and Casaba Outlet as well as a couple new shops in Port Olisar. Dumper's Depot will not make it to the first release but we're hoping to roll that out very soon after. So we're setting up that shop specifically, Behaviour's kind of tweaking a little bit of the environment art where we're honing on the terminal purchasing. Purchasing via kiosk or a terminal, so you can actually buy ship components and ship weapons in the shop. So that design will be fleshed out here pretty soon and we'll get that into implementation phase. I think that's it for this week guys. Thanks we'll see you around.
Foundry 42 UK
Mici Oliver: Hey everyone this is Mici over in the U.K. Today i've got John Reilly with me.
JR: Hey!
MO: So John do you want to tell us what you do here at Foundry 42?
JR: Sure. I'm Senior Character Artist here working on Squadron 42 and all the rest that goes with. Currently i'm responsible for working on the Vanduul. Previous to that i've done characters like Graves and so forth. So yeah been quite lucky.
MO: How long you been here as well?
JR: Think it's getting on for six months. It's flying by. Very busy!
MO: Yeah? Good. And what did you do prior to this job?
JR: Everything from paper round to working in a restaurant! No, no. I've got quite a bit of experience as i've been doing this professionally for about 15 years. Started at a company called Bizarre Creations, worked on the PGR series. Then I did some time at Sony Liverpool with the Wipeout franchise. TTFusion to a couple of the Lego games but then I went off, to London, worked on film. Worked with Dean egg  on films like Total Recall, Skyfall, Thor 2, Antman etc.
Then I was fortunate to work for another company called MPC to work on Jungle Book that's out at the moment in the cinema. Working with some great talent on characters like Shia Khan and just a massive amount of animation and characters and work there. More recently i've been doing the quarter scale collectible statues that you can get at like Forbidden Planet and so on. They cover franchises like Street Fighter, Mortal Kombat, He-Man. It's pretty much if it's need doing I can do it and then at some point and now i'm here to do it here.
MO: That's cool, that's awesome, I think that's all we've got time for so we'll see you in the 'Verse
JR: Cheers
MO: Bye
Foundry 42 Frankfurt
Brian Chambers: Hey everyone Brian from Frankfurt. This week instead of gving a detailed report across every discipline which I do most week or bring somebody in I just wanted to take the time to, thank you guys for enabling and letting us do what we do, which is make cool games. Walking around the office today amongst everything else I was busy looking at the people on the floor and the team and the size of the team and how everybody's gelling and working and vibing off each other, it's pretty cool.
A year ago when we moved into this place less than a year ago, we were all crammed in a small corner. We're now almost to capacity we're at 45 people here. As I look out the door right now I can see Steve Bender with Todd Pappy and the Design Team. They're all huddled, they have guns in their hands. Fake ones. Going through motions talking about systems and different designs and movement. I was just talking with the tech guys looking at the progress on procedural stuff. Which you guys will see an update on pretty soon here, and it's just across every department, every discipline that we have here in Germany, and it's all because of you guys.
So next week i'll come back with detail and i'll give the line item, discipline by discipline because I know there's a good amount of people that like that. But sometimes you just need to stop and say thank you letting us work on this. We all are looking forward to playing this together just as much as you guys are, and every day we're getting a bit closer actually making that become a reality, which is pretty cool to be a part of. Yeah so thanks again and i'll try to mix it up next week. Thanks.
ATV Behind The Scenes: Voice Attack & HCS Voice Packs
Jared Huckaby: Thank guys, on this week's episode of AtV Behind the Scenes, we're sitting down with some of the creators of the voice attack and HCS voice attack profiles, if I'm saying that right, Paul and Gary. Gary, Paul, how you guys doing man?
Gary Magenheimer: Howdy.
JH: So…
Paul Watson: I'm good, thank you.
JH: So, let's start off with introductions here. Gary, who are you and what do you do?
GM: Gary Magenheimer, I'm the creator of voice attack, it's been around since about 2009, that's pretty much all I do.
JH: All right, so it's been going well for you then.
GM: It's been going pretty well.
JH: Paul, what do you do? Who are you and what do you do?
PW: I'm Paul Watson, I'm the producer of HCS voice packs and I work very closely with Gary in bringing you the most immersive production ever made, yeah.
GM: Agreed.
JH: So, for those Star Citizens who may not be aware of what voice attack is, why don't you give us the quick run down, Gary.
GM: Oh ok, voice attack in a nutshell is an application that basically turns your voice commands into macros and scripts and it's got a little bit more to it, there's variables and things that help you to control flow of those macros and scripts and give you more of an immersive feel.
JH: All right, now how do people get voice attack?
GM: You can go to voiceattack.com, go to the download section and just download and install. It's got a 21 day trial and it's limited, you can't do everything. Like you can't, I'm sorry, it's limited… you only have one profile with twenty commands and that should give you a pretty good taste on what it can do.
JH: Gotcha. Now we don't usually do pseudocommercials for third party products but voice attack has gained a lot of popularity within our community, so we thought we would at least take the opportunity to share what you're doing and how folks can find your product and see how that works.
GM: Thank you.
JH: Now Paul, you work for HCS voice packs, now tell us what that is.
PW: HCS voice packs, they are the responses from various actors, both celebrities and non-celebrities, and it's those responses that you get in a huge catalogue with educational material as well as the immersive sound responses you see in a lot of the videos online.
JH: Ok, now I understand we have a clip so let's take a look at the clip and we'll come back and talk about what we saw.
[Voice Attack product clip]
TheNoobifier: Hello Citizens, this is TheNoobifier. HCS has asks me to prepare a short demo of how the Orion voice pack is used within Star Citizen. Here we go. I'm coming back on board.
Voice Attack: Affirmative, stand by. Securing the ship. Pressurizing. Welcome back, Commander. All systems ready to go.
TN: Landing mode.
VA: Gear down.
TN: Request landing.
VA: Request for docking sent.
TN: Automated landing.
VA: Automated landing enabled.
TN: Front shields 25%.
VA: Forward shields.
TN: Reset shields.
VA: Shields equalized.
TN: Display power.
VA: Displaying power.
TN: Reset power.
VA: Power equilibrium restored, reset.
TN: Display overview.
VA: Affirmative
Ship AI: You're approaching simulation boundary.
TN: Nearest enemy.
VA: Nearest hostile.
Ship AI: Warning you're approaching simulation boundary.
TN: Zoom out.
VA: HUD out.
TN: Lock missiles.
VA: Locking onto target.
TN: Send it.
VA: Missile launched.
TN: Next target.
VA: Next hostile.
TN: Lock missile.
VA: Locking onto target.
TN: Send it.
VA: Target missile launched.
TN: Next target.
VA: Next hostile.
TN: Zoom in.
VA: HUD forward. Reading you loud and clear.
JH: So, that was a clip that was put together by one of our own Star Citizen's, Mr. Noobifier, or is it TheNoobifier, Mr. Noobifier… it's TheNoobifier.
PW: It's…yeah, Noobifier.
JH: Noobifier. Now we saw a little bit of… you've got three voice packs that are coming out, why don't you takes us through what each one of the three are.
PW: All right, so we'll kick off with the Star Trek legend from the original series, William Shatner, I'm pretty sure most people will know who he is. He plays and performs Orion and there's some flavoured content in there just to justify the existence of that particular AI or not an AI, you'll have to buy the pack and work that one out.
Secondly, we've got Star Trek The Next Generation's, Brent Spiner who played Data in that, and his character is called Vega. He was found in an old but of junk somewhere on a planet, an old buggy or something. You know, residing in the computer and he also used to reside in a coffee machine on a space station somewhere and this sort of thing.
Then we've got Midnight, who is…his backstory is he's a snapshot of a human mind and it's been integrated with this AI and he believes he's from elsewhere. So, you've got this whole backstory to them to justify their existence as well as the responses and quite a lot of flavoured responses in there as well and there's some fun stuff in there and this sort of thing. So, quite a… in the three packs there's something for everybody.
JH: Who plays Midnight?
PW: Midnight is played by the legendary, Tom Baker, he used to frighten me as a kid in fact. Dr. Who, yeah, he's in there.
JH: Alright now we … you expect those voice packs to go up Friday we're thinking?
PW: Well all the profiles have been completely tested by Ken who put them together. His handle is Zhoriax, he's one of the backers. He's really dedicated, he's done a lot of hard work with the profile. He sends them off to people like Noobifier and they test them and come back with feedback and we fix stuff. Everyone has been really, really supportive of giving us as much feedback so that we can get this right. We don't want to put it out until it is right and we'll continue to improve it. It's ready now really we're just waiting for launch, waiting for the right day, probably tomorrow or the next day.
JH: Alright, so by the time folks see this video anyway. Where can they go to download these?
PW: hcsvoicepacks.com. There'll be a section there … there is a section there for Star Citizen. They're clearly labelled: they've got the Star Citizen logo on the front and they're officially licenced by CIG now. So, yup, brilliant.
JH: Which is why we're doing this segment guys. And of course Gary would be very unhappy if I didn't put … say this: you do need VoiceAttack to run the voice packs. This is a combo deal, so you can get your VoicePack from VoiceApack … VoicePack? … VoiceAttack from  voiceattack.com. Then you go to HCS VoicePacks to get your Orion, your Vega, or your Midnight. I've got to be honest my love of Star Trek kind of cancel each other out, I think I'd probably go with the Tom Baker just so I didn't have to chose Brent Spiner and William Shatner. So that's probably what I'm going to end up doing. You may have cancelled the Star Trek nerd out of me.
PW: There is the option to use all three Jared. We do have tripple profiles that we do build so that you can use all three characters. We're just working on those now. They'll come out, probably, about a month after release. So if you wanted to have all three on board you'd be able to have one manage power, an other one manage thrusters and somebody else doing comms and maybe some other stuff that you want to do. But as you saw in Noobifier's video there's plenty of stuff in there for three characters to do so we'll make sure that's available inside a month.  
JH: Well that was such a sick … slick segue it's almost like we did it on purpose. We didn't. We didn't. Alright, so Gary and Paul before we let you go is there anything … final words you want to give to the Star Citizen community?
GM: thank you for your continued support. VoiceAttack's success has been largely due to the fan base of Star Citizen. I do appreciate that. Thank you guys.
PW: Absolutely I'll second that Gary because, as you know, I backed Star Citizen before Elite Dangerous. And, yeah, it's fabulous. It's great to be a part of all of this. Yeah, thanks to the community: they're the ones that support us. Thank you.
JH: Alright guys. Well that was Gary, creator of VoiceAttack; Paul, creator of HCS VoicePacks; I'm Jared, I just work here. Back to you guys.
PW: Thank you.
ATV Rewind: Early Spaceport Concept
Wonderful World Of Star Citizen: The Relay
Erris: Hello Citizens, my name is Erris. [Video Stutter]  Breaking news on The Relay tonight as we come to you from inside The Relay [Video Stutter] studios.
Erris: Hello everyone at The Relay. We're here with Chris Roberts.
CR: Very nice to meet you guys and welcome. You guys do great coverage on Star Citizen. So…
Erris: So, I first have to ask, you have heard of The Relay?
CR: Oh yes, absolutely.
CCT: You know what would be really great? If there was a podcast that discussed the lore from the beginning …
FFFFFF: [Gasps]
CCT: All the way through…
Erris: Would, would that… wait, I've got a great idea…
CCT: It would be in all one place for the viewers.
FFFFFF: We could call it …
Erris: Lore …
FFFFFF: Lorecast [Shoves Erris Over]
CCT: [Guffaws]
Erris: Well, we've got Captain_Richard.
Erris: Start by talking Stellar dot fashion.
Erris: Here…
CCT: Yes.
Erris: AKA TheAstroPub.
Erris: We have GrayHeadedGamer on.
Erris: And joining us in an already successful effort to replace Dolvak's beard, we have Disco Lando's beard.
Erris: And later, the Sataball scandal. The Arrows could face huge fines or even suspension after allegations that they scrambled opponents' comm systems. Can the struggling team stay above the scandal or are they destined to sink? All that and more, this week on The Relay. Your team. Your news. Your Verse.
DL: Hello everybody and welcome to another episode of the Wonderful World of Star Citizen. I'm your host Community Manager, Jared Huckaby. And if you've never seen the Wonderful World before this is where we take a look at the podcasters, the livestreamers, the arts and craft makers, the art makers, the people who make these tiny action figures of people who work here. Seriously that's a thing that happened, I saw it once. On this week's episode we're sitting down with David Alloggia, one of the members of The Relay. David, how are you doing man?
Erris: I'm doing pretty well. How are you?
DL: I'm doing well. Thanks for asking.
Erris: You're welcome. We Canadians like to ask things like, "How are you?"
DL: You're so polite!
Erris: And I'm sorry.  I apologize in advance.
DL: Are you sorry for being so polite?
Erris: Yes, I do apologize for my politeness.
DL: [Chuckles] Alright, The Relay… you know what? I'm not going to bother explaining it. Why don't you tell people what The Relay is.
Erris: That's a bit difficult to do. The Relay …
DL: That's the only reason you are here, so hopefully you can do it.
Erris: I'm horrible at this part.
DL: Do it… do it.
Erris: The Relay started out basically as a way to keep track of content. Mainly coming from the subreddit that there was a whole bunch of content that got lost. Mainly because there was… I mean you guys put out so much every week that it's hard to keep a track of. So, we started doing things like transcripts.
We started covering everything we could about Star Citizen and that's  where The Relay started and now we try and make sure we're a home for transcripts, for fan fiction, for videos, tutorials, basically anything Star Citizen related that needs a home and somewhere that it won't get lost like on the subreddit. That's what we try to do.
DL: Okay, and for those of you… those people who may not know what the subreddit is?
Erris: The subreddit is a [long exhale]
DL: Those people exist. There are some people who have gone their entire lives on the internet without experiencing Reddit.
Erris: I was… I had gone my entire life without experiencing Reddit until Star Citizen, and I found the Star Citizen subreddit. I found transcripts done by Nehkara, who transcribed everything you guys said in your videos, and it was the most wonderful place ever and now I can't spend a day off the subreddit. But the subreddit is just… it's a place for people to talk about Star Citizen. It's a bit more open than the official forums on the Robert Space Industries site, but it's also a bit more chaotic than the official forums. It gets a bit crazy in there, but it's pretty fun.
DL: Alright, so back to The Relay. Who are some of the people that are involved in The Relay.   
Erris: Oh, wow. The Relay started… was basically founded because of someone named Nehkara, and Nehkara is one of my good friends. He's another Canadian like myself and he started transcribing every … all the videos that you guys would put out from Around the Verse, Reverse the Verse, the 10 for the Chairmans. He'd make transcripts and notes of what was said in those, so he was basically the founding impetus for The Relay and around him we've got… we've amassed a pretty good group. We've got CanadianSyrup who now runs our transcript team. We've got StormyWinters who runs our fiction. Shiver Bathory is our european correspondent, our Director of European Relations . We've also got JakeAcapola… Acappella, I'm gonna butcher his name. JakeAcappella,  he's our video and general gaming director. We've got PapaDolvak who used to run the subreddit actually and we've got a bunch of other people as well. Lesser people who do transcripts and fiction and it's… I think we've got about 30 to 35 different members at any one time, and people come and they go. It's a… we've also got Firespikez. He hangs out and talks with us a lot as does Fastcart and…
DL: We've also got Firespikez. He hangs out.
Erris: [Laughing] No Fire… Fire… [Laughs]
DL:  [Gives Double Thumbs-Up] No, perfect. [Waves Off] Leave it there. Firespikez… he hangs out. [Gives Single Thumbs-Up] Now besides the transcripts what can folks … what else does The Relay do? I know you do a couple of livestreams.
Erris: Yeah, we do a… right now we just do one livestream a week basically, it's on Saturdays at 2:30 PM Eastern. Which is… basically we talk about the Star Citizen news of the week and then we answer questions, between the transcript team we know entirely too much about the game. I like to say that we're second only to the devs in our knowledge of Star Citizen, so people like to ask us questions when they can't get a hold of actual CIG employees.
We've got fiction every Wednesdays. We transcribe 10 for the Chairman, Bugsmashers, Around the Verse, Reverse the Verse, any of the special Reverse the Verses, the monthly subscriber ones. We do Monthly Report summaries. We've also got hosted fiction on Sundays. Nehkara does concept sale analysis. I'm running out of… there's more and I just can't remember it all, because there's so much every week and now a bunch of our members have started streaming. So, JakeAcappella and PapaDolvak are off their own… they're gonna stream on their own. We've also started doing general gaming news and reviews as well. It's… there's too much.
DL: Alright, I know that Ben is a big fan, because The Relay tends to remind him of his own WCNews website that he started for Wing Commander back in the day. So…
Erris: I have… I have to say one of the highest compliments I've been paid was Ben saying that The Relay reminds him of WCNews and that was… yeah.
DL: [Chortles]
Erris:  It was … it was nice!
DL: Well said, well said, well said. Well said, David.
Erris: I'm an author. I don't do the speaking thing.
DL: I'm sorry?
Erris: I'm an author, I write things. I don't do this whole speaking, talking.
DL: Alright. Well, any final words for the community from The Relay before we let you go.
Erris: For the community, thanks to everyone that's stuck with us. Thanks to everyone who uses our transcripts to settle arguments.  Thanks to everyone who comes and checks out The Relay. And more importantly thanks to everyone who supports what you guys do, cause we wouldn't exist without Star Citizen itself. And we're fans too so like… yeah, thank you guys.
DL: Alright guys, that was David Loggia from The Relay. No relation to Robert Loggia, which was the conversation before we got started here, I can see him shaking his head at me. Robert Loggia was cool man. I'm a big fan of Robert Loggia.
Erris: I have no idea who this person is…
DL: [Hold Forehead With Thumb As If With Headache]
Erris: I feel like I should find out.
Hennessy: [Off Camera] Just google Family Guy with Robert Loggia.
Erris: Family Guy with Robert Loggia. I will do that.
DL: [Long Sigh] Back to you Sandi.
Erris: Did we derail?
MVP w/Tyler Witkin
Tyler Witkin (TW): Hey there, Tyler Witkin here, Community Manager in the Austin Texas Studio here to bring you this week's MVP
A big congratulations to TheMikeBerg for his Star Citizen cell shaded ships. These are pretty awesome and the most exciting part about it is he plans to do one for every ship in the entire game. So congrats again to you sir, you're this week's MVP. Back to you guys.
Back to Studio
FS: Yeah I love those cartoon spaceships
SG: I hear we might an offical use for those in the future so thank very much Tyler.
FS: And Sandi, what's  this Britizencon I'm hearing about.
SG: I'm glad you asked Forrest. It is a fan based event that is being organised by some fans. It is in Manchester on July 23rd and we are doing a little bit of participation on our side through Foundry 42 and doing a panel and maybe some other Foundry 42 folks are going. So I have Erin rounding up some devs right now
FS: Oh cool so we'll have..
SG: to do like a design panel. So yeah check it out, they've spruced up their website.
FS: Oh that's exciting.
SG: And they have a quite a few people going so far.
FS: So we've got a bunch of CIG staffers showing up, definitely show up to that.
SG: Yeah, we do, check it out.
ATV Fast Forward: Piping System
Of course each week we take a look at something that's still in development for Star Citizen's future so let's take a look at ATV's FastForward
Outro
FS: And be sure to tune in to Reverse The Verse tomorrow, 11am Pacific time on Twitch.
SG: Yay. Will you be there?
FS: I will be. I will be to answer all of the question.
SG: There you go. Alright. And do you ATV and want to show us? If so hit "Like" and "Subscribe" below. It does help us out. We just hit over 200,000 YouTube subscribers.
FS: Awesome. That is fantastic.
SG: Yay! And thank you as always to all of our Subscribers for making this show possible.
FS: Yes.
SG: We will see you next week on Around The Verse.