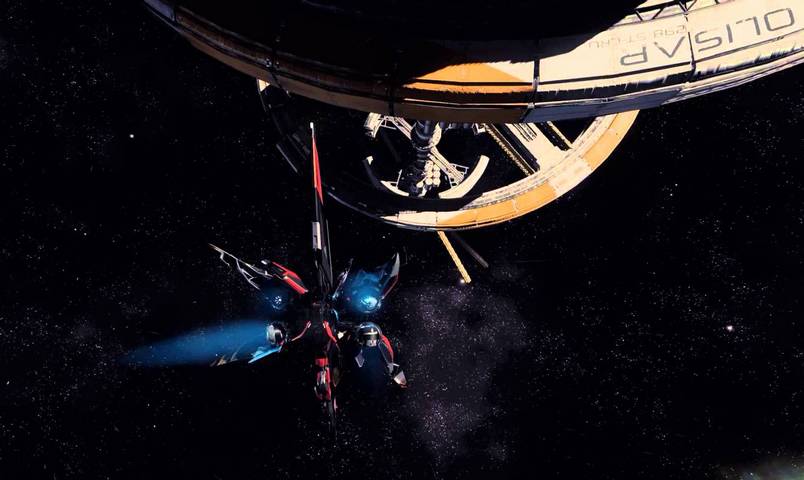 Hello there fellow Citizens! It's time for this week's episode of Around the 'Verse! Around the 'Verse – Episode 36   Sneak Peek   http://i.imgur.com/atnnnDt.webm   http://i.imgur.com/TGfmXHz.webm   http://i.imgur.com/zdButSa.webm   Transcript by Erris Empire Report...
Hello there fellow Citizens! It's time for this week's episode of Around the 'Verse!
Around the 'Verse – Episode 36
Sneak Peek
Transcript by Erris
Empire Report
Augmented limbs

more and more popular, but where's the genetic material coming from?

Stranded in Space

Learn what you can do to protect yourself from being stranded

Black Jacket Reunion

is there finally going to be a reunion?
Around the 'Verse!
Episode 36
SXSW was a success

CIG won an award, most anticipated crowdfunded game
There was a closing party on Sunday.

Video of Versicans playing the game, some video of CR, some clips from the SXSW trailer.  Some video of people dancing.
I think I saw a Years1Hundred in there

A lot of new backers.  Numbers are way up.  It's just going to get better.

New LFTC on Friday
US/UK racing has added some RSI logo to their rally car, some pictures of that.
Happy Birthday to the Wing Commander movie – turns 16.
News from Around the 'Verse
CIG LA
Darian Vorlick and Elwin Bachelor, Senior 3D artist and ship modeler

Travis is in Colorado visiting Illfonic

3 ships in the pipeline:
Also working on Weapon and Mount standardization

given some light information, so now the artist is here, they can go over more detail on the system.

Elwin is working on the Merlin

The ship is supposed to be a light-weight interceptor.  Technically considered a snub-fighter.
When the connie gets in a fight, you can detach the merlin and help out.  Fast and agile, packs a punch, but can't take too many hits.
Not made by RSI, it's made by Kruger Intergalactic.

The Merlin has a different style, it doesn't look like an Aurora or a Constellation.
First Kruger ship they're manufacturing.  Also Kruger's first ship in the Lore.

3D modelling explainer

Whiteboxing

sit down and grab all the components the ship requires: power, cooling, engines, radar, etc…
Make sure that all those components fit in the actual shape of the ship.

shapes end up changing from concept to modelling to fit the mechanics.

Previously the Merlin couldn't fit all those components, so its shape changed slightly.

Greyboxing

those components are fit, starting up the modelling
Geometry as it's going to be in the final ship.
Inspirations for Kruger / the Merlin

A lot of automotive design – Ford Mustang, not Consolidated Mustang.
Small details from Lamborghini's.
It's a small, angry ship.

Elwin is also working on standardization of ship and weapon mounts.

The goal was to come up with a system that was understandable by all the artists, without them having to worry about the actual mechanics of the weapons.
Goal was to determine a maximum bounding box – the largest possible area any given weapon would have to fit.

S1 rail gun vs S1 gatling gun have different shapes, but they have the same maximum size.

This way they can fit a 'bounding box' on a ship during whiteboxing, to make sure they can fit any weapon of that size.

size 2 neutron cannon for example, now they know that'll fit in any S2 slot, no matter what.

Weapon mounts

also being standardized for the same reason.
They're a step above the weapon.  Mounts increase the size of the shape that have to accounted for, to make sure there's enough room for the gimbal and such.
If you put a weapon on a wing, when you put a gimbal on it, you have to make sure there's enough room for the weapon to articulate.
System facilitates ships being agnostic of what the weapon looks like.

Same system should be used for all components.
Illfonic
David Lengeliers, Chuck Brungardt, and Travis Day
After PAX they're frantically working on getting things ready for FPS release, which should be coming down the pipes very soon.

Recharge station.

Needs to be a way to recharge energy based weapons, so you can wirelessly recharge your weapon.  Works with all energy weapons.

An animator is pre-vizing 0g movement.

They didn't get to make it as good as they wanted to PAX, so they're going back to make sure it all looks good.
Making sure animators and coders and everyone have something to go off of.

Lots of cool mechanics are in, but the animations need to be better.

Pre-vizing iron sights as well.

Travis is helping, making sure everyone gets things done on track.

Illfonic is NOT in trouble.  Travis is there to hang out and help, not to crack a whip or anything.

There's lots of non FPS stuff that has to be organized for FPS too, network, lobbies, etc…
Travis is there to service Illfonic

It's instant, on demand advice.

REC will come to FPS as well.  And it'll be transferrable between AC and FPS.  That's being finalized this week.
Austin
Jake Ross, Rob Reineker, and Jason Hutchins.
Update on PU stuff.

Character Artist is working on sculptures for the Terra planetside environment.
Another artist is working on solar panels and radar for space stations.  Giant prop that'll be in PU.
Initial program work being done on mining gameplay.  Might have a prototype of that pretty soon.

SXSW Demo Video

worked really hard in the last few weeks to put it together.  Video was going to be an introduction to people who weren't SC fans, but were just general gamers.
So it had a lot of reused footage, and a lot of new shots with new characters and environments that haven't been showed much before.

'it was a blast' working late.
Working hard on getting Area 18 ready.  Decided to go from Playable demo to video to cater to a different audience, but a lot of the stuff from the video will be usable in game.
They're not in 'Demo' mode as much, it's real game stuff.
Lots of names of people working really hard, I can't catch them all.  CIG all work hard.
CIG UK
Mike Snowden

Thrusters

first pass on the Gladiator thruster.

WHen they get a thruster task initially, they take the information that the fiction writers have put in, and then that information drives what the thruster will look like.
For the Gladiator, it's using Hammer Propulsion (for now), which is typically a more 'low-tech' category for the VFX.

there are categories for VFX.  Low tech – afterburner style effects.  High-Tech – more pure visual style, more typical sci-fi.  Star Trek effects or so.

Just taking the fiction and lore and design and making sure it all looks good.
Interview
Ryan Archer – Interview with Senior Producer Jason Hutchins.
What's your job here?

I"m a Senior Game Producer for the PU

So you work mostly with the artists and programmers working on the PU?

And the game designers as well.
Part of what I do is personal assistant to Tony Zurovec, and also oversee other producers that are overseeing artists and such.

Okay cool, so since you've been with CIG, what have you enjoyed working on most?

That would be…really the cross studio coordination with our other partners, and increasing the communication and effectiveness of that relationship.  Which sounds really boring, to fans, but we've been able to do some really interesting things.

So you enjoy the infrastructure a bit more?

I do, I also enjoy doing a bit more game design, which I was working more with engineers at my last studio, but the ability to work more with design and artists is pretty nice.

So, how do you like working at Austin, compared to where you worked before?

Well, the pace is a LOT different here, at CIG.  That took some getting used to, but I'm still really enjoying it.  Much faster pace.

And you worked at Blizzard before?

I did.  I worked on WoW for 16 years or so, mostly on WoW.

So what are you looking forward to most, as you work on this game?

Well, this game is one I've always wanted to play, and the thing that intrigues me most is that vehicle to FPS transition, so the idea of doing a boarding party, or fending off pirates, and transitioning from space combat to FPS combat is a thing that really interests me, and presents hard technical and design challenges, and that's what I'm really interested in.

Yeah, and I think lots of our fans are interested in that too

Yeah, ever since I played BF 1942 and Desert Combat that had great modern vehicles, and the transition between vehicle and ground combat was amazing, and I've wanted to have a space game with that ever since.

So, I take it you're a sci-fi fan?

Oh, yeah, besides the change of pace from fantasy, I'm a modern and sci-fi fan.

So this is the place for you then

You always get the classic questions, like, star wars or star trek, and I'm like, can't it be both?

I think a lot of us agree. We're all very strong fans of the genre of sci-fi.  So, how do you like working, I know you get to work more with designers now, so what is it about working with them that you like most?

Actually, I worked with designers quite a bit before, but here I get to do a bit more actual design input.  So that's what I enjoy, actually coming up with design ideas.  I'm not actually designing the game, but i'm doing that more than I used to.  Previously I would take a design from someone else, and this is what producers do, they chop it up into parts, and make a plan to implement it to make sure you're building the right thing at the right time.  So it's taking those kinds of concepts and turn it into a plan.  So here I'm working with other producers to make plans, but I'm also actually putting some design thought into it.  It's a big, big game, and Tony Zurovec has big, big designs, and there's stuff we need to do that he's not always laser focused on, so I get to put input into that.  More fun than I was expecting.

I've had the privilege of eating lunch with Tony a few times, and he just gets so into it when he's explaining different elements.  He goes into so much detail.  Is that something you like about working with Tony?

Yeah, he's very detailed, and it's both easier and harder.  With that level of detail, people know what they need to do to implement.  It's harder, because that level of detail takes extra time.  Sometimes we should be doing multiple things, but we'll only work on the one that has all the detail.

So I know Chris is pretty proud of how we're able to work across the globe.  How do you find that kind of work?

It is, it's got its challenges.  In a perfect world, you'd have a studio put together so you can all work in the same place, but there are a lot of good reasons to do distributed development.  One of the best things about it is that you get to have kind of a handoff every day, where people spend their work day, saying this is what we got done, and then they hand it off to another studio, and we kind of go all around the world, which is cool.  The sun never really sets on the Roberts Empire.  The bad thing is sometimes there's Lag time, sometimes the UK will be working and they'll hit a problem that someone in Austin could fix, but of course they're sleeping, so the UK has to wait.  The other bad parts are all just logistics, you end up having meetings through lunch or dinner.  But the positives are we've got talent from all over the world, and they don't have to move to be part of it.  So, the ability to have talent live where they want to live is immeasurable.

Yeah, and we have a lot of new talented people in Frankfurt too

Yeah, I'm really excited about those guys.  Crysis is an FPS, and we want to make an MMO out of it, and those guys are just the ones to do it.

Is this the biggest game you've ever worked on?

Well, you can argue that WoW is not a small game, and you have to ask, what do you want to do after that, and I wanted to do something ambitious, and I couldn't think of anything more ambitious than this.

Well, thanks for sitting down with me
and I know the fans would want to say thanks very much

I do appreciate it, and we wouldn't be here without the fans, so thank you.  Keep the support coming, because we've got a long way to go.
MVP
Game Ideas thread from Boraxx

Hadrian Convention would grant protection to healers and the like.

Org

Deep Space Disco

Don't care about pirates or fighting, they just want to dance.
Flight School with Sandi
Around the 'Verse
Jump Point – Retaliator will be released
1.1 is hoping to be released later today, but it's looking good (when filmed on Tuesday)

1.1 will be very exciting.  Manual and automated landing, REC system, Gladius is flyable, modifications to flight model, and more!

All flyable ships are available to test till tomorrow
Art Sneak Peek