Hello fellow Citizens and welcome to DevTalk for the weeks of June 29th and July 6th!
Hey folks!  I apologize for missing last week but I was out of town at a wedding.  This edition of DevTalk will cover everything from June 29th through to today.
DevTalk
RSI Forums
Design Knight – CIG Developer @ CIG Austin
When you buy a component in the PU, you will have the option to equip it, store it in your cargo hold if you have room, or have it shipped back to your hangar.  Source
Mechanics behind PvP slider will likely be in constant flux in the early stages of release.  Source
Nate Blaisdell, Senior Designer @ CIG Austin
Abandoned and capturable space stations are planned.  Source
Nate discusses how they are trying to solve some of the possible exploits surrounding Bounty Hunting.  Source
Paul Jones, Art Director @ Foundry 42
Expect to see visual quality to continue to improve and reach new levels.  Source
Alexander Peruyera, DevOps Engineer @ CIG Austin
Working on creating easier ability to move between server environments (i.e. PTU vs Live) using the new patcher and launcher.  Possibility of opening up additional environments if this works well.  Source
Alex provides an enlightening discussion on instances.  Source
James Pugh, Community Manager @ CIG Santa Monica
Working on getting a Ship Status page up so we can see what stage each ship is at in its development.  Source
John Crewe, Senior Technical Designer @ Foundry 42
Five movement speeds available to those with keyboards:
Sprint
Lowered & Moving = Run Fast
Ready & Moving = Run Slow
ADS & Moving = Walk Fast
Walk/Crouch/Prone
Lisa Ohanian, Production Co-ordinator/Outsourcing Manager @ CIG Santa Monica
3 artists (Chris Smith, Josh Coons, Dan Kamentsky) working on finishing the revamp of the RSI Constellation – just completing the greybox.  Source, Source 2
Thomas Hennessy, Videographer @ CIG Santa Monica
Actor playing Alan in Empire Report is Circus Szalewski.  Source
Ben Lesnick, Director of Community Engagement and Content Strategy/Creative Director @ CIG Santa Monica
Military designations for ships work this way:  F (letter than indicates type of spacecraft – in this case a Fighter), 7 (iteration or generation number of that spacecraft), A (manufacturer – in this case Anvil Aerospace) gives you F7A Hornet.  Source
NPC wings for the Starliner have been designed – "I think we went with #4."  Source
Disco Lando, Legend in his own time @ CIG Santa Monica
CIG are leaning towards making the Hope-class (currently the medical variant of the MISC Endeavor) a separate ship.  Source
Star Citizen panel at San Diego Comic Con at 4 PM Pacific time on Sunday, July 12th.  Source
ArtStation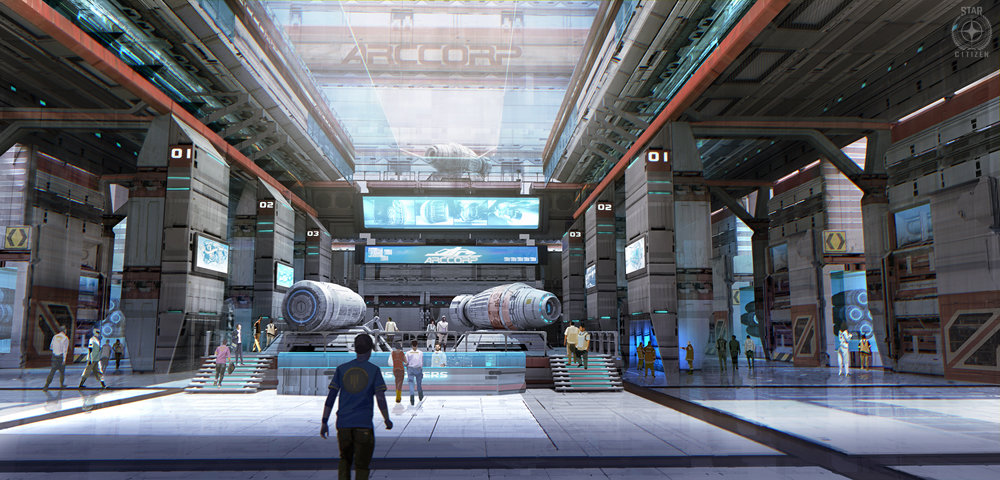 June 29th – Our newest ship manufacturer needs a logo. Which do you think?
June 30th – AtV 51! We've got travel mugs!
July 1st – The elegance of space travel! Some extra Starliner concept art…
July 2nd – Thanks for your input on the Crusader logo! Here's what we went with.
July 6th – Anyone dropping in to see us?
July 7th – Episode 52! Now with color-coordinated outfits.
July 8th – The team is hard at work! Photos from this morning's stand ups.
July 9th – Hark, the Herald's engines sing!
July 10th – Artists work best in the dark!
July 12th – Fun panel at ComicCon – quite a few new people